Property Investing For Retirement Income
Australians are living longer. But for many, this won't necessarily mean a longer retirement. In fact, analysis of ABS data from 2016 reveals that the number of Australians over 45 who say they don't intend to retire until their 70s has increased by 15% in the last decade.
For some, working longer will be a necessary fact of life. For many others, however, the choice to continue working into their retirement years will be a decision based on a healthy approach to ageing: maintaining their lifestyle, including work, and staying active.
According to the ABS, financial security is the most common factor impacting people's decision to retire, followed by health and physical abilities. As the decision to retire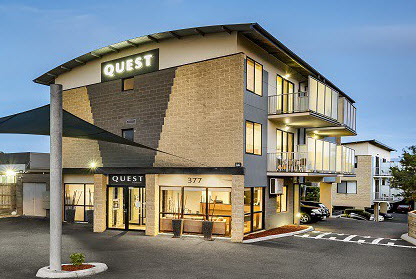 approaches, many investors find their approach to property investment changing. A focus on long-term growth switches to more reliance on cash flow to replace the regular income from a salary.
Likewise, retirement can also be a time to replace active property management roles required in traditional property investment (such as dealing with agents and tenants, managing unexpected repairs and dealing with lost income due to vacancy) with more low-maintenance responsibilities that can be offered by different investment types.
Serviced apartments, for example, are an increasingly popular property investment choice for retirees. They offer regular, reliable cash flow required to maintain a lifestyle, and at the same time offering good growth, low up-front costs and hassle-free maintenance (which means no more unexpected calls about broken ovens or flooding bathrooms).
Due diligence is also less of a burden. Serviced apartment companies rely largely on the business of corporate travellers, who utilise the apartments for short stays – like a hotel – but would prefer some home comforts, like kitchen and laundry facilities. As such, serviced apartment complexes are strategically located in areas of high demand for business travellers. Teams of researchers work closely with corporate clients to identify these areas, allowing serviced apartment investors the peace of mind that any apartment they choose to buy has already passed rigorous location scrutiny. This level of attention to location means it's unlikely that investors will end up with a serviced apartment in an under-performing area.
Apart from the relative convenience and ease of owning a serviced apartment, investors are also afforded guarantees that are simply not possible with regular residential property investment. Serviced apartment management companies, such as Quest, lease the property back from you at an agreed rate over a long-term period. This means the investor is guaranteed their rental income, regardless of actual occupancy. In addition, the property undergoes regular, scheduled rental appraisals to ensure the investor is attracting market value rent.
Day to day maintenance and repairs also become the responsibility of the managing company, meaning the investor no longer needs to be concerned with approving minor repairs as they arise.
Serviced apartments can offer people greater flexibility in their lifestyle without giving up their property portfolio. For those of us working later into our years, they could provide a great alternative to traditional property investment.
Quest Properties
Quest Properties has over 28 years' experience considering the location, infrastructure, job growth opportunities and return on investment to ensure their investors have long term security.
There are over 5,000 strata titled apartments owned by private investors who enjoy exceptional returns and enviable cash-flow benefits.
Quest Properties offers affordable property investing options with high rental returns (commonly around 6.5% plus) and attractive tax deductions. A Quest property is a secure, high yielding investment with extra benefits like no property or letting fees.
Whether you're looking to invest, exploring the various benefits or would like an update on all our property news, simply register your interest and we'll tell you everything you need to know. https://www.questproperties.com.au/register-interest-quest-properties
*Original article published with Your Investment Property can be found here.