Investing For Cash Flow – The Serviced Apartment Solution
Property is a national sport in Australia, and every news bulletin is thick with housing bubbles, impacts of interest rates and the squeezing of first home buyers out of the market. As baby boomers downsize and retire, many are turning to property to bolster superannuation. But buying into property at the peak of the market may not make sense for a lot of investors, especially those looking for a better cash return.
The value of positive cash flow and having access to additional income will be important for all investors at some point in their investment lifetime. Whether you're looking to boost your cash flow as you enter retirement, or while you or your partner takes extended leave from work to travel, raise children, study or renovate your home, it's likely that all investors will at some point choose a property investment model that provides a positive cash return which enables them to access the benefits of their investment, right now.
Many investors will be comfortable with making the decisions required to purchase a positive cash flow property and feel assured they will enjoy a regular income from that property. For others though, the property market is too fickle a beast, and the knowledge, research and due diligence required to ensure a property is the right kind of property, in the right area, at the right price are too many variables to consider.
There is, however, an alternative. Serviced apartments are a proven investment strategy that offers positive returns. In fact, since 2000 serviced apartments have grown steadily and now enjoy a 25% share of the accommodation market. Travellers' need for serviced apartments remains high, with demand outweighing supply in some areas, with both business and leisure travellers choosing home comforts over hotel services for both quick and longer-term stays.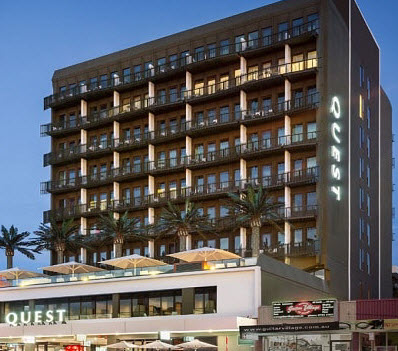 For investors, this is good news. Serviced apartments offer a range of benefits to investors that include a secure income and generous maintenance inclusions that also remove the day-to-day involvement of dealing with tenants. Long-term leases all but eliminate loss of income during periods of vacancy, and provide stability for investors relying on cash flow from rents.
Investors with a high ratio of capital growth properties often turn to serviced apartments as a simple and effective cash strategy to provide balance to their portfolio, because of the reliability of serviced apartment rental payments. The pay the rent directly to you with no management fees regardless of whether there are guests actually staying in the apartment or not. Add to this the thorough due diligence undertaken by serviced apartment companies to ensure properties are purchased in business growth locations, and even experienced investors find serviced apartments have a lot to offer.
Quest Properties
Quest have been in the serviced apartment industry for more than 28 years and has a proven model that has weathered the test of time. Quest's team of researchers work with business industry contacts to pinpoint locations that are growing corporate hubs and require short-to-medium home-style accommodation for business travellers.
This means that the Quest strategy for choosing properties is based more on growth and developments in the corporate sector, rather than property market fluctuations, which in turn leaves serviced apartments less vulnerable to the variances regular residential properties are exposed to.
So for investors looking for a property solution that will bring in a reliable cash income, as well as offer long-term rental reliability, serviced apartments are a great option worth investigating.
Whether you're looking to invest, exploring the various benefits or would like an update on all our property news, simply register your interest and we'll tell you everything you need to know.https://www.questproperties.com.au/register-interest-quest-properties
*Original article published with Your Investment Property can be found here.